The Artist Elan Vital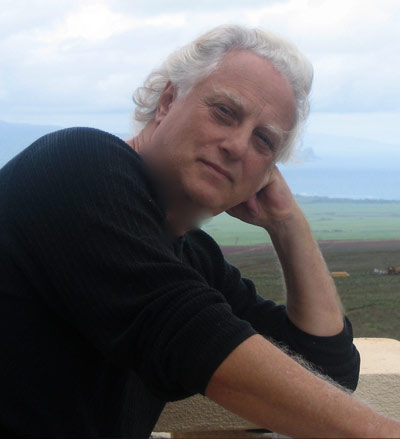 As the son of a prominent lithographer and growing up in New York City, Élan was exposed to art and color at a very early age. His discovery of Leonardo DaVinci's renaissance diversity theory first touched him when he was only seven; DaVinci became an influential force in Élan's life, and still is to this day. Élan attended a high school for gifted students and graduated with honors, attaining an equivalency of an Associate Degree in Engineering at age seventeen.

After graduation, Élan was hired by the IBM Corporation as a computer diagnostics expert - the youngest on their team. He was later hired by the ITT Corporation as a design engineer for projects such as the Manila airport underground lighting system and the towers for a hydroelectric dam in Pakistan.
Élan's personal artistic revolution began after leaving the corporate world and joining a commune of artists in the East Village, Manhattan. It was there, while designing psychedelic lighting equipment, Élan met Andy Warhol. Andy committed the monetary resources for Élan to design the first psychedelic discotechque, located on Saint Marks Place in New York City.

This became the springboard for many artistic endeavors for Élan - combining invention with art. Élan moved to Hawaii in 1988. His first major work in Maui was a 49-foot, 10-ton, life-size, humpback whale - the largest sculpture of its kind in Hawaii. Élan donated the whale to establish Maui's Ecology Park, where it is now on permanent display.

After completion of the whale, Élan began his signature work - combining aerospace enamel with exotic pigments and finely ground minerals. His inspiration for these meta-realistic paintings comes from the beauty of gemstones, his colorful surroundings, and life itself. Élan's masterpieces, with 30-75 layers of extraordinary color, explode with depth and movement! Like fine studio art-glass and gemstones, light travels through each individual layer of color; this is what makes Élan's work so incredibly luminous! The only artist in the world to use this medium and technique, Élan has captured nature's beauty, creating a unique and compelling style.

Currently the number one selling artist of original paintings in the Hawaiian Islands, Élan has sold over 6,500 works, with patrons from around the world. More than 70% of Élan's admirers have acquired five or more works of art for their homes or businesses.

Élan's originals can be seen online at Elan Vital Galleries, at Elan's Cathedral City, California commissions Studio and exclusively adorning the walls of "Sarento's On the Beach" in Wailea, Hawaii.