NO OTHER ARTWORK has ever displayed these visual details that characterize Élan's art, other than work performed by Élan Vital himself.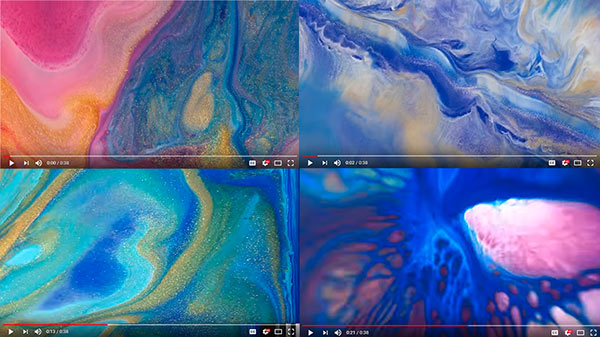 Click the image to visit the actual Apple video and see for yourself!
Click to view the Apple IphoneX advertisement on Youtube
In an effort to display the incredible capabilities of their new OLED screen featuring brilliant color, detail, translucence etc., many people believe Apple co-opted the works of Élan Vital and manipulated the images.

As soon as the iPhone X ad came out, Élan received an outpouring of texts, emails and telephone calls from many of Élan's over 1600 patron's. They called with congratulations and inquiries as to how Apple found his art and why Élan Vital was not mentioned or given credit for the images. Élan and his staff were flattered, confused and dismayed upon viewing the ads for the iPhone X. It certainly appeared to them that it was true, in that Élan Vital's artwork had to be used to create the images in the advertisement.

Just look at the exciting, brilliant GEM-like colors and flows, and movements that is singularly Élan Vital artwork.

(Click to view - Élan Vital painting in 1991)

In particular, notice the cellular structure which is a hallmark of Élan Vital's work indicating life force that lies within. All living things have cellular structure, inanimate objects do not. Élan Vital's name means life force and therefore the embodiment of the evolution of his signature work.

This cellular structure is formed by the interrelationship of pure pigments collected from over 50 countries. They are responding and reacting to one another placed within the still liquid exclusive proprietary aero space enamel medium. Scientists call this property of formation a colloidal suspension.

This property is not caused by different liquids that are immiscible such as oil and water, it is caused by the charges emitted from, and the interrelationship of disparate pigmentation and their charges within the medium. Some attract, some repel, some subjugate during different conditions and environments that they are exposed to (heat, humidity, thickness of medium, timing, etc).

Élan found this crystal clear honey thick medium as he was searching for and experimenting on creating colors that had not here before existed in the world of art on canvas. Colors that could be found in gemstones such as rubies, pearls, opals, and the iridescence in the color of exotic birds and tropical fish were absent from the pallet of colors available to the artist.

When Élan became aware of a medium that painted the wings of high flying jet craft, he called the US government to see if he might be able acquire some of this medium to work with. This medium has the ability to withstand extreme environments such as very intense ultraviolet light, extreme cold and flexibility at subzero temperatures which are present at high altitude's. Ultraviolet is the enemy of color, as it causes colors to fade. This medium has a UV absorber, similar to a sunblock, which protects your skin from getting burnt in the sun, and as such protects the colors in Élan's paintings from fading in the sun.

The points of light in Élan's paintings are also present, as Élan employs natural mica flakes (sparkles) to create this effect.

NO OTHER ARTWORK has ever displayed these visual details that characterize Élan's art, other than work performed by Élan Vital himself.

Élan has been painting in this style and using this medium since 1991. You may view other early videos displayed on YouTube of Élan working in his backyard in Maui, Hawaii, as well as other early interviews and videos of his galleries.

Click to view Élan's Youtube channel to view these videos

Take special note of the flows of his work that are displayed in his early videos. Doesn't it look very much like the flows and details that are in the iPhone X promotions and Ads?

Élan has sold over 6500 original one-of-a-kind paintings on canvas using his medium and special techniques that he has developed for over 27 years. He is extremely proud of the fact that over 70% of his patrons have three or more of his works. Élan says this is proof of their great satisfaction. After having his work grace their home, they have chosen to acquire more works because they love it and want more.

You decide, after reading and viewing the videos, whether Apple have taken and used his works to create Apple iPhone X commercials.

It requires Élan's medium to replicate these magnificent colors. The images on computers are better than print, as light passes through the colorations like in gemstones and Élan's paintings.

We encourage you to share your thoughts and kindly post on social media such as Facebook, Instagram, YouTube etc. to RIGHT THIS WRONG.
Click here to view and share the facebook version!
Thank you so much,
Élan Vital and Staff
Call Élan Direct: 1 808 - 214 - 0901